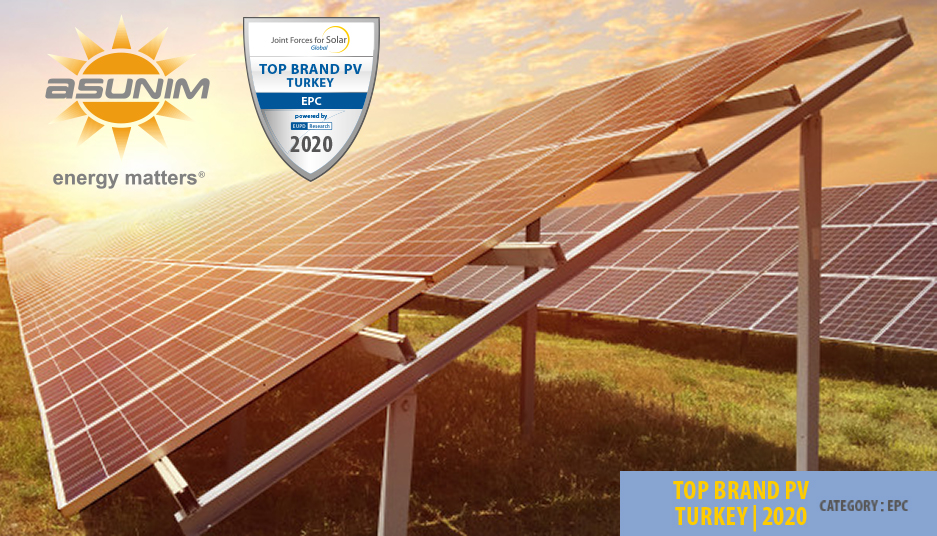 Asunim was honored with the "Top Brand PV Turkey 2020" certificate by EuPD Research confirming its reputation for quality EPC services.
Asunim provides turnkey installation service in the field of photovoltaic solar energy through its offices in different parts of the world, with its experience and numerous international references that have been successfully completed; It has been awarded the "Top Brand PV Turkey 2020" certificate in the "EPC" category by EuPD Research, a globally recognized authoritative research institute.
A First in Solar Energy Sector in Turkey
The certificate is accepted as a worldwide leader in the "Top Brand PV 2020" for providing the necessary criteria EPC in Turkey and the first and only company to receive this award by EuPD Research.
EuPD RESEARCH annually conducts surveys among installers in global markets as part of the Global PV Installer Monitor and makes an independent assessment of the perception of many brands. As a result of these evaluations, the best brands receive the "Top Brand PV" certificate in various categories.
In Turkey, the Global PV Installer Base on the results of the survey of installers in the various countries of the Monitor's European product and service quality, reliability and the EPC category The evaluation of consumer satisfaction, "Top Brand PV Turkey 2020" were awarded certificates.
Emphasizing that Asunim have experience in the international arena since 2005, Turkey's Founding Partner of Asunim, Mr. Umut Gürbüz stated that "Asunim Turkey has been a pioneer on various occasions and a leader on the innovation of PV systems in Turkey. The Top Brand PV Turkey 2020 certificate granted to our company by the world-renowned EuPD in the EPC category made us all proud and motivated for our future work. "